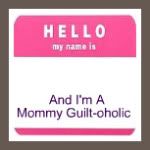 Every Monday, my friend Brooke hosts
Bad Mommy Rehab
. In a world where it is so easy to compare ourselves to others, to feel guilt, and discouragement this is an opportunity to focus on the positive!
Last night I was having a pretty deep conversation with a friend. Our conversation turned towards the topic of child-training. She was sharing that she came from a family of 6 and that her mom did every ounce of the housework. The children didn't have any chores or were not encouraged to help out. My, how frazzled that mom must have been!!
I am thankful that we are raising our children to have a good work ethic. We are teaching them that we help not because we have to but because we love people and that is what Jesus would want us to do. We are trying to teach them to take the initiative. That if they see something that needs to be done not to just pass it by or wait for someone else to do it but to step in and get the job done. And, of course, we are teaching (trying to!) them to help and serve with a cheerful attitude.
We are hoping to instill a good work ethic that will last their whole life!